Take Off to Turkey
By now you may have forgotten James and I even traveled before having a baby, as my blog has been taken over by maternity posts ever since our announcement. I apologize that it's taken me this long to start sharing the details from our Mediterranean adventure. Growing and birthing a human made it difficult to dedicate the kind of time and attention recounting a trip of this magnitude requires. Fortunately, I keep a travel journal and have found a second wind. So today I am sharing with you our trot across Turkey!
I've been waiting a lifetime (literally since elementary school) to visit Greece, but Turkey was an added bonus and surprise. Personally, I hadn't heard much about Turkey prior to planning our trip. However, when booking a flight from Houston to Athens meant a layover in Istanbul, we decided to turn it into a multi-day stopover and the mad research began.
Of course, for me, this meant creating a map. Feel free to access it, copy it, follow our journey as it suits you!
Our Turkish Airlines flight to Istanbul didn't depart until 9pm, with a 6pm arrival IST. I've expressed before how difficult it is for me to sleep on planes. The excitement coupled with endless movie opportunities and multiple snack breaks on-board the flight didn't make it any easier. I was actually impressed with the near 3 hours of rest I managed. Typically the exhilaration of travel keeps me going on little-to-no sleep, so I wasn't too worried about jet lag.
It actually played to our benefit that we arrived in Turkey in the evening. This allowed us to settle into our hotel and not feel pressured to do more than scope out a place for dinner and relax. Relax, but not sleep, as we actually weren't staying at our hotel for more than a few hours before we were onto our first major activity of the trip - a hot air balloon flight across the Cappadocia valley! Getting there required a midnight flight and an hour long bus ride to South Central Turkey. All so we could arrive and be ready for a 04:30 blastoff. Exhausting? Yes. Worth it? Hell Yes! While our tour company turned out not to be the best (and therefore I won't recommend them on here), the balloon ride experience itself was out of this world. Nothing can take away from the view we had or the effortlessly free feeling of drifting through the air. A testament to our smooth operator, definitely.
Following our ride was a full-day tour of the area that I wish we had bailed on. While we saw some interesting rock formations and met a nice camel, the tour turned out to be much more of a tourist trap than an adventure. Each location littered with popup tents of vendors selling the same nonsense. What was described on the itinerary as a pottery making class (leading everyone to believe we'd be making an amateur yet sentimental souvenir) turned out to be a 5 minute demonstration followed by 30 minutes left to browse the shop, all while dangling the promise of lunch over our heads. Don't get me started on that lunch. Suffice it to say, James and I solidified our previous notion that we are simply not "tour people."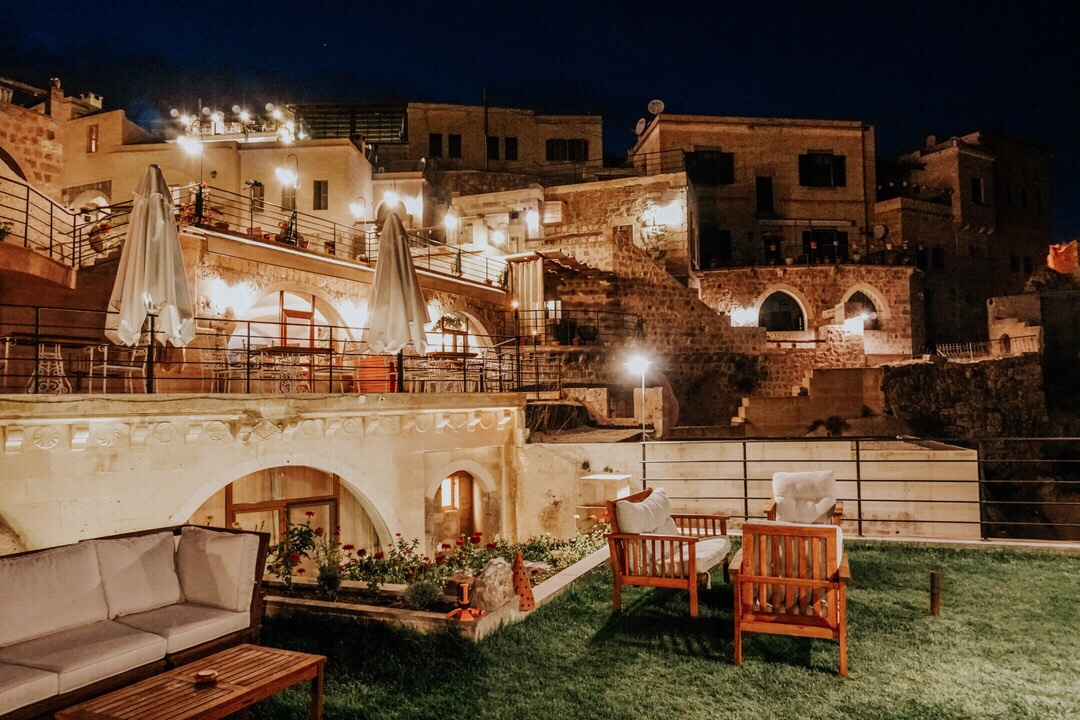 I wish we had gone straight back to our incredible hotel and spent the day soaking in all its beauty. Once we did make it to the breathtaking Taskonaklar Cave Hotel, we melted into bed for our first nap in 40 hours. A solid three hours later, we emerged renewed enough to enjoy a candlelit dinner on the hotel's plush lawn. Overlooking the drastic stone dips and peaks of the Cappadocia valley, this place was magical and just what we needed. The next morning, as we made our way to the airport and back to Istanbul, we were able to catch the view of another balloon fleet - this time from the ground verse airborne among it. I can attest that it's a moving scene from any angle.
With a short time remaining in Istanbul before we'd make our way over to Athens, we packed in a full day of sightseeing. The Blue Mosque, Hagia Sophia Museum and Basilica Cistern were the main historical landmarks, while the Grand Bazaar and Spice Bazaar filled the day with sensuous extravagance. The Spice Bazaar, with its mounds of intoxicating seasonings, teas and chocolates, was my absolute favorite spot in Istanbul. All 5 senses overwhelmed by the colors, fragrances, flavors and textures all dancing along to the bustling sound of vendors and vendees haggling prices. We made two trips to the Spice Bazaar during our limited stay, picking up a variety of teas and some very special saffron. To me, the Spice Bazaar captured the essence of Istanbul in one, dazzling spot.
We found the Turkish people fabulously friendly. Honestly, I had some stress about travelling there, particularly as tensions continued to rise along Turkey's southern border with Syria. My worry elevated by our pregnancy news (and hormones). Upon arriving, all stress was eased by the kind people who ran our first hotel, The Blue Tuana. They greeted us at every opportunity with freshly steeped tea and delicate cookies and provided us with helpful information for touring the area. We were also overcome with high regard for the Turkish people in the way they care for the substantial population of stray cats. These are the most well-groomed, well-fed, stray cats I've ever encountered. People leave out not only food, but litter boxes for these felines, making them all very healthy and affectionate. If you know James and I, you know we had to stop to pet them all.
As for Turkish cuisine, I'd say the most highly regarded were the teas and desserts. You couldn't walk past a pastry shop without stopping to ogle and usually sample something stunningly exotic and delicious. Doner and Kebaps are probably the main dishes and generally meals are made up of lightly seasoned meat and vegetables. I think my favorite kebap came from this fast-food style restaurant near the Spice Bazaar. I recommend starting your meal with lentil soup wherever you go!
The best advice we received before visiting Turkey came from my friend Trisha, who messaged me to recommend obtaining a travel visa prior to departing. It saved us some time and was probably a little cheaper than purchasing in the busy Istanbul airport. Thanks Trish!
Any regrets? I think if I were to change anything at all about this part of our journey, it would have been upgrading our tickets. Turkish Airlines actually treats you extremely well in economy. However, my 6'3 husband struggled in the teeny tiny seats. Poor guy. Neither of us were prepared for just how small they were going to be. He managed to sleep most of the time, so that helped. We pleadingly tried paying for an upgrade for the return trip. For whatever reason, Turkish Airlines won't let you upgrade if you've booked using reward travel. United Airlines and the Star Alliance need to work on this.
I am so happy we took advantage of the opportunity to turn one destination into two!