One Wanderer
Traveling alone is an experience I've always wanted to check off my imaginary bucket list. To be challenged, but also to be completely open to anything. Open to changing plans on a whim, to moving at my own pace, to finding confidence in myself in all aspects of the adventure and open to making new friends.
All of the above were accomplished on my recent excursion to Niagara Falls.
I had an interview for a travel program called NEXUS. This program allows pre-screened travelers quicker access between the U.S. and Canada. To obtain this privilege you simply fill out an application and schedule an interview. For a Houstonian, the only complication is that all interviews are held along the border, meaning I needed to make arrangements to travel. So, when an interview became available in Niagara, I took the opportunity to see the area. With James working all month in Romania and the trip coming up too fast for friends to join me, I became excited to try my hand at solo travel.
I was definitely nervous leading up to my departure, but something came over me as I boarded the plane. My travel playlist in my headphones, I walked assuredly onto the plane and let the emotion wash over me. I could make this trip everything I want it to be. Ironically, it boosted my confidence when I surprised each person who discovered I was traveling alone. Mostly Customs Officers, but also some families I stood in lines with. I tried not to share that I was alone with too many other people, though it was probably pretty obvious.
Nexus approval complete, I started my adventure with a stop at the Cham Shan Temple, also known as "The Temple of Ten Thousand Buddhas." These beautiful grounds were constructed to facilitate spreading the Dharma. While no pictures (or shoes) were permitted inside the temple, I did leave with two books generously available to any visitors.
Next, I headed to my B&B so I could unpack, freshen up and find some food. My decision to stay at a B&B stemmed from nervousness about staying alone. I felt a bed and breakfast would be a comforting place to ease any anxieties. The pictures of the Redwood Bed and Breakfast are warm and welcoming, but even more so are the two women who run it. Maria and her mother were delightful hosts. Each night they stayed up prepping for the morning's breakfast, open for conversation and story-telling. I learned a lot about these women in a short amount of time. What luck to discover Maria once lived and still has family in the city of Porto, Portugal?! James and I will be taking our honeymoon there in just a couple weeks. By the end of my stay Maria had shared with me some of her family's contact information and has encouraged us to seek them out! I couldn't believe the good fortune of choosing to stay there.
Having never been to Niagara Falls, I had no idea just how close and accessible everything was. Walking around after dinner my first night I happened to stumble upon the falls. They popped up unexpectedly and I was instantly overcome by their majesty. The mist hits you almost instantly and the closer you get to the edge of the Falls (specifically the Horseshoe Falls on the Canada side) the more you think you might just be swept away.
I took a Ferris Wheel ride to get a breathtaking view from above the Falls, grazed through the Secret Garden filled with blooming tulips and then called it a night. I slipped into one of the most comfortable robes, steeped some chamomile tea and drifted to sleep. Thoughts of all I'd seen, in just a few hours, dancing through my head.
Friday morning provided a savory breakfast with a family from New York City. They shared some of the interesting sights they'd seen in the days before me and I made note to take in a few of them myself.
First I took on the Journey Behind the Falls. This tour offers you a history of how the Falls came to be the attraction they are today as well as took you as close as possible to the Horseshoe Fall. You truly go behind the Falls, through a tunnel, in which you can see and hear the stampede of water gushing over the cliff.
This tour didn't last as long as I'd estimated and I found myself interested in seeing the Falls from the New York side - even though the Canadians certainly have the better view. One thing we'd talked about over breakfast is how the Maid of the Mist has an association with Niagara Falls like no other tour. I'd decided I wanted to take the New York boat tour over the Canadian for this reason. Also because I could see the line for each and the Maid of the Mist was significantly shorter. It meant, however, I'd need to walk across the Rainbow Bridge and into the United States. I'd planned to do the New York side of things on Saturday, on my way back to Houston (since I'd have to cross the border anyway), but something about crossing on foot brought on a new level of excitement. What an experience to cross a border with nothing but my backpack and my own two feet!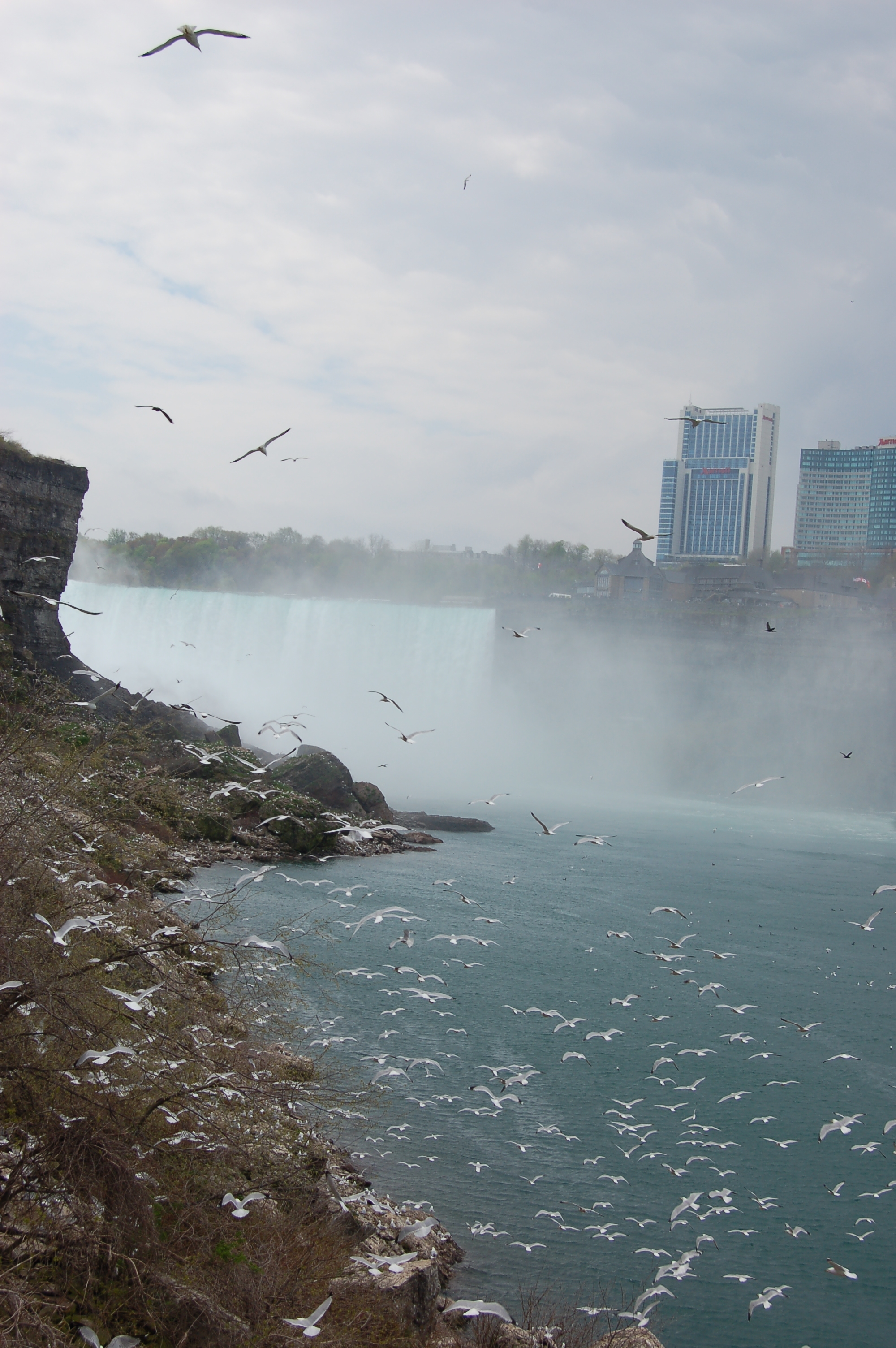 It was sunny as I crossed the border, but the weather in Niagara is finicky and quickly it became cloudy and a bit cooler. I decided to take the Cave of the Winds tour first, hoping it would warm up again before I was soaked by the close up with the Falls. That turned out to be a great decision. The Cave of the Winds tour gets you right under the Bridal Veil Falls (a break off from the American Falls) with excellent views, but little to no water contact. The only reason for a poncho would be to protect yourself from the droppings of thousands of sea gulls claiming the territory.
The sun showed its face again right as I took my spot aboard the Maid of the Mist. The intensity of the Falls from this vantage point can't really be explained as much as it can be felt. The views combined with the sound and the feel of the water on your skin made for an unforgettable memory. Such a magnificent product of nature. Within a few hours I'd taken in a great deal of the Falls and was ready to venture North on the Canadian side to a little town called Niagara on the Lake.
With the sun shining through the windows of my rental and the radio singing, I was perfectly content to just travel up and down the river way, taking in the lush views. Soon and much to my delight, I was aware of the mini wine country around me. I pulled off the road at the sight of a sign reading "Wine Slushies" happy to discover and learn about Ice Wine.
Ice Wine is made by leaving grapes on the vine past harvest, until they literally become frozen. The grapes are then pressed while frozen solid, producing a highly concentrated flavor and alcohol content, much like a port. The potency of the wine makes it a delicious base for a slushie, like the Cabernet I tried, as well as a playful sipping wine available in many varieties. I completed my tasting and then continued along the road to Niagara on the Lake.
This town is charming in design. Little boutiques and restaurants flooded with tourists. The view of the lake is special in that from the edge of the Province of Ontario you can look out and see Toronto. There's a sweet, little park with a gazebo that would make for a desirable picnic spot, but other than that I really wasn't interested in sticking around. I treated myself to some gelato and stopped by this magnificent floral clock on my way back to the Falls to get ready dinner.
Of course there were so many moments up to this point that I wanted to share with friends and family. As fate would have it, I'd got the chance to make a new friend and share a lovely conversation and meal with another solo traveler. We'd both booked a reservation at the same restaurant at the same time! And when the host came to seat us, my new friend, Francie, bravely asked if I cared to sit together. I'm so thankful she did.
The restaurant is Skylon Tower. Knowing in advance this was a novel experience, designed for tourists, I'd spend too much money on a meal but get a priceless view of the Falls. The view and the company made for a beautiful evening worth every penny.
Saturday proved to be rainy and extremely cold, for which I was so thankful I'd taken advantage of the beautiful weather Friday. With the water excursions under my belt I felt like the one thing I'd like to see before I go is the Butterfly Conservatory. With my hair braided and my backpack on my shoulders, I wandered the garden like a schoolgirl for two solid hours. The tropical setting of lush, green plant life mixed with the assortment of butterflies in color and size was captivating. It was a lighthearted, angelic encounter that rounded out my goals for this trip.
With a full heart I crossed back over into the United States and began my journey back to Houston.
While I absolutely recommend the experience of traveling alone to anybody with the desire, I highly recommend doing thorough research on your destination. Niagara is an excellent first choice, especially for a woman looking for a safe place to test the waters. (Pun not intended, but sticking with it!) Some blogs I read when I first considered traveling on my own can be found here and here. Though it was years before I actually took myself up on the opportunity, it was an empowering experience and something I would love to do again!